Speak the Correct Love Language for Your Valentine: From Words of Affirmation to Burritos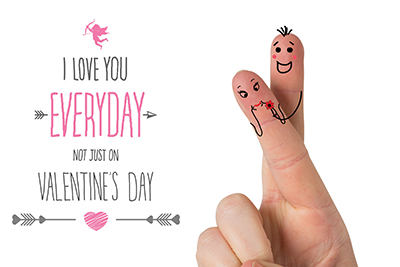 Do any of these sound familiar?
I'm too maxed out to give the attention to my marriage that it deserves.
I get my buttons pushed by my spouse more often than I'd like.
I'm sometimes stressed by my relationship, like my partner is not psychologically nurturing.
I feel like I'm the one who is always trying to make up from an argument, offering the olive branch, and trying to soothe the conflict.
When I fight with my spouse, I never quite clear the residue. In other words, my hurt feelings don't get fully healed.
Minor things in my relationship seem to trigger intense anger and defensiveness.
These are some of the statements that I hear from my patients, online community, and frankly, I say them myself from time to time—mostly to close girlfriends. In honor of Valentine's Day, I want to take on the accumulated slights and grievances that seem to erode the main intimate relationship in your life, and perhaps drive your hormones to misfire. The good news is that the solution doesn't need to involve years of couples therapy or expensive visits to a bioidentical hormone doctor. The solution may be as simple as learning your own love language, and more importantly, the love language of your spouse.  
Valentine's Day as Pattern Interrupt
I love Valentine's Day. As a gynecologist, I love to celebrate what really matters: love in all its forms. As a yoga teacher, I love the focus on connection. As a hormone expert, I especially love the emphasis on dark chocolate (oh, and oxytocin!). As an armchair epidemiologist, I want to help the half of Americans for whom sex is dissatisfying, and perhaps even the last thing on their mind. 
(1)
Women are maxed out and not satisfied with their sex lives. I believe one of the key reasons for adrenal dysregulation and misfiring hormones is toxic relationships and how they activate the painbody. (Eckhart Tolle defines the painbody as the accumulated emotional pain that exists as a negative energy field in your body and mind, and results from the amalgam of memories, wounds, and experiences you've had in the past. 
(2)
There are times when you need to assess your relationship and make hard choices about whether to stay or leave. But most of the time, I find that couples need a pattern interrupt. Women are wired to do this with our tendency to tend and befriend, so I challenge you this Valentine's Day to step up and upgrade your relationship with the simple tool of love language.  
The Cheapest Way to Balance Your Hormones?
One of the best ways to get your hormones in balance may surprise you—it's to understand the love language of the people around you and especially your closest companion, and to be of service. While this may not be your first instinct in the days leading up to Valentine's Day, I promise it's worth the time and mindful investment. (You can certainly use your fork to get your hormones reset—
get my new book
to find out more.
(3)
My Darling Husband, also known as David Gottfried, and I have been married for 12 years, and I want to be honest—we've had some strain recently. He's been helping me launch my new book, but he has his own amazing career to manage. I've been traveling a lot, and when I am in town, I'm
half there
as I think through all the 973 moving parts of a book launch. In short, Darling Husband needs some lovin'. Proper care and feeding of Darling Husband makes one's life so much better, right? And the surprising truth is that it doesn't take much to give him the attention he deserves. However, I used to do it all wrong. I assumed that the way he felt most loved was the same as for me: acts of service, words of affirmation, thoughtful gifts. But those are my love languages, not his. Very seldom does a couple have the same love language.

Understanding the love language of those around you can go a long way in helping get your hormones back in balance. Find out why!

Step 1: Learn Your Own Love Language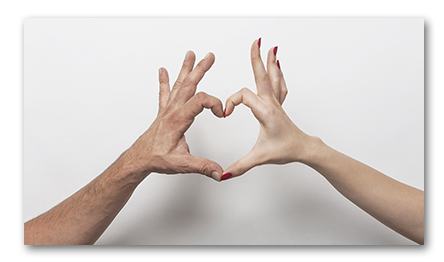 My main love language is acts of service, followed closely by words of affirmation. This is how I express love to others. I spent the first half of my marriage trying these on my husband, and they never quite landed with him as intended. It wasn't until I read Dr. Gary Chapman's book,
The Five Love Languages
that I learned that David's top love language is quality time. (Learn or relearn your love language by taking
Dr. Chapman's free quiz
. 
(4)
Here's the key: you need to know your own love language to bridge the gap in your relationship, because you were probably attracted to someone who has very different love languages than your own. The five love languages are words of affirmation, gifts, acts of service, quality time, and physical touch.
Step 2: Learn Your Partner's Love Language
I used to think that love was the key to our success in marriage, but I've changed my mind. It's
love language.
My husband's is quality time and physical touch. When I really attune to my husband and what's happening for him, give him my undivided attention, touch him often and with intention, and spend the time each day to get current emotionally with him, we get along great. At first it felt mildly exhausting since these are not my love language, but the rewards are definitely worth the effort. There's something curious that occurs when you learn your partner's love language. You develop your witness self. You become more objective. You finally say to yourself, "Oh, maybe I'm being the jerk here. What would it feel like if I clean up my side of the street?" Of course, love language doesn't apply only to intimate relationships. A friend of ours was at the hospital unexpectedly this week with his wife's emergency surgery, and David went to his side while she was under the knife to deliver a burrito. Did I mention that burritos are the sixth love language? Joking aside, intimacy is born of the desire to test each other in relationship. You can run from the test or feel victimy about it, or you can stand your ground and summon your best self. Love language helps you stand your ground in a loving way. Yes, conflict is evolutionary. Your closest intimate relationship is designed to reveal to you unhealed pain. So stop licking your wounds, and let's put this into practice.
Step 3: Practice Regularly Speaking Your Partner's Love Language
This is the tricky part. Falling in love is temporary, hopefully replaced by something more mature and enduring after about two years. Part of the arc is to reconcile differences, such as learning, speaking, and becoming highly skilled at speaking your loved one's love language. Last weekend, I had a bad fall and bumped my head while on a business trip to San Diego. I was in a sorry state for a few hours, and my husband flew down from our home in Berkeley to be with me and bring me home. I felt so loved by his act of service. When you make the transition to speaking your partner's love language and develop that awareness, you will each feel loved. It will fill your bank account of love, which will reset your chemistry lab of hormones.
Step 4: Take in the Awesomeness
Once you start to express love regularly in your intimate partner's love language, take it in. Hold positive emotion a minimum of 20 seconds, as often as you can, in order to produce the new neural networks that will reset your relationship and your hormones. Dwelling in the positive changes and celebrating the wins will interrupt the addiction to adrenaline and how the ego puffs up to it. If you want more love, be more loving and do loving things. Think loving thoughts, including forgiveness (or my favorite, forgive-ish-ness) and gratitude. These are not platitudes: they actually work. Most importantly, learn to repair your partner's hurt feelings, and to give when it isn't convenient - that's intimacy and it's a lifelong practice. (One of the wise women who has influenced me most on this account is Ellyn Bader PhD. 
(5)
I've learned that it's important to recognize your resistance to letting go of negativity in your spousal relationship. It's addictive, and the painbody feeds on further evidence of your beloved's crimes (and ignores/forgets all the good stuff).  See if you can let go even a little, of the old painbody identity as a depressed, angry, hard-done-by person. A little crack is all you need to let the light in. Wishing you love and light this Valentine's Day, and someone who fluently speaks your love language!  
(1) 
Laumann EO
,
Paik A
,
Rosen RC
. Sexual dysfunction in the United States: prevalence and predictors.
JAMA.
 281 (6) (1999): 537-44.
http://www.ncbi.nlm.nih.gov/pubmed/10022110
;
Wierman ME
,
Nappi RE
,
Avis N
, et al. Endocrine aspects of women's sexual function.
J Sex Med.
 7 (1 Pt 2) (2010): 561-85. doi: 10.1111/j.1743-6109.2009.01629.x.
http://www.ncbi.nlm.nih.gov/pubmed/20092453
;
Shifren JL
,
Monz BU
,
Russo PA
, et al. Sexual problems and distress in United States women: prevalence and correlates.
Obstet Gynecol.
 112 (5) (2008): 970-8. doi: 10.1097/AOG.0b013e3181898cdb.
http://www.ncbi.nlm.nih.gov/pubmed/18978095
(2) 
http://www.huffingtonpost.com/eckhart-tolle/living-in-presence-with-y_b_753114.html
(3) 
http://hormonereset.com/
(4) 
http://www.5lovelanguages.com/
(5) 
http://www.couplesinstitute.com/ellyn-bader/