The Top 7 Books Every Woman Should Read
These are books that I've loved in the past few months to years. Hope you love them too!
1.
Yes Please
by Amy Poehler. Her two apology letters, one from the brain (p 80) and from the heart (p 82) are required reading for anyone in a relationship, because relationships will take down your adrenals if you let them.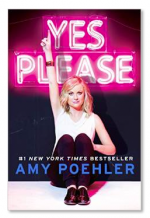 2.
Not That Kind of Girl
by Lena Dunham. So funny and so fresh, even if you're way past your twenties. I highly recommend Dunham's humor to get your hormones back in balance, so one-click that book right now.
3.
Women's Bodies, Women's Wisdom
by Christiane Northrup. It might be too hippie dippy for some of you, but this matriarch of natural women's health is my mentor of 25 years, y'all! Skip over the astrology but pay attention to her pioneering insights on female subtle energetic anatomy.
4.
The Hormone Reset Diet
by Sara Gottfried. True, this is shameless self-promotion, but isn't time to reset your hormones with your fork? Or at least go to page 92 for quick coherence.
5.
Maxed Out
by Katrina Acorn. If you're a mom, this book is a must read. It could be called The Year I Maxed Out, or Ways to Avoid the Loony Bin When You're a Mom. It may sound too much like your life to be worth a read, but Katrina's story is strangely hopeful and inspiring. It's not the usual drivel of get great childcare, supportive partner, and flexible employer. Dive deeper and lean out, my friends.
6.
Mistakes Were Made But Not By Me
by Carol Tavers and Elliot Aronson. You may think that your wiggly bits or sugar cravings or hysterectomy is your biggest problem, but I'm here to tell you that your self-sabotaging beliefs, half-truths, and rationalizations are way more important to deconstruct. This book is about cognitive dissonance, and it's a blind spot we all have.
7.
The Fire Starter Sessions: A Soulful + Practical Guide to Creating Success on Your Own Terms
by Danielle Laporte. Danielle Laporte is like a sister, goddess, rockstar, and preacher—all wrapped up into one, and with good tattoos. You know how a good friend makes you feel more like yourself? Danielle does that. She will light your fire whether you want to escape the corporate cubicles, start an online fashion site, or write a book. I've been following her advice since 2008 when I first heard she offered Fire Starter sessions and booked one. Get lit up!