Select your option below:
A Daily Dose of Super Greens Helps You Detoxify Your Body, Support Your Brain, and Transform Your Health.

* Products are automatically delivered every 30 days. No obligation, modify or cancel your subscription anytime. If you should have any issues our expert customer support team is here to help you navigate your subscription.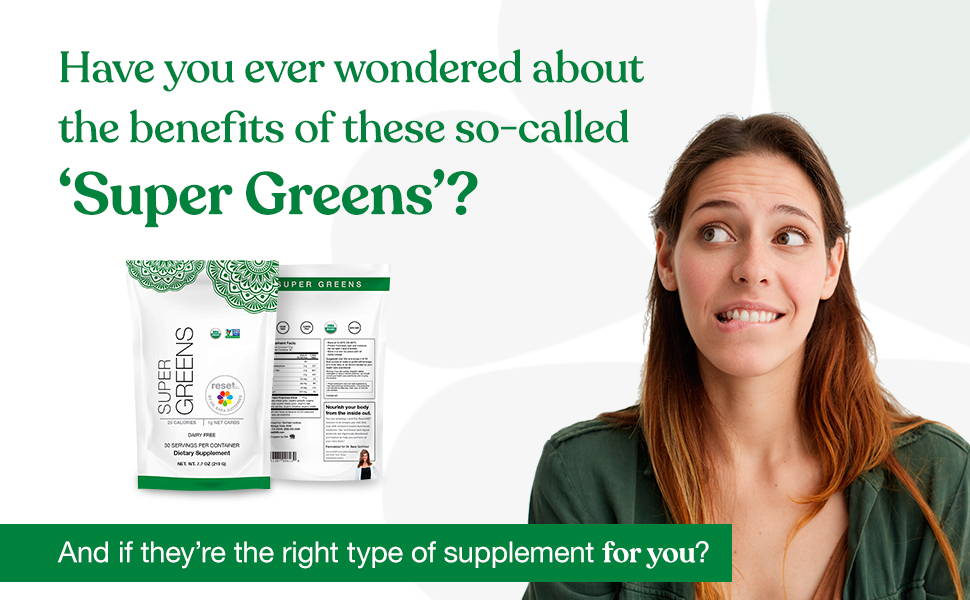 Developed by Dr. Sara, also known as the 'Queen of Greens'
Dr. Sara created Reset360 Super Greens powder to help you increase your bio available phytonutrients and supercharge your hormonal health without struggling to eat pounds of vegetables each day.
Her unique green superfood combination contains no fruit, is 100% organic, and is one of the strongest defenses against free radicals (which contributes to aging and cellular damage).

WHY PEOPLE LOVE SUPER GREENS
Why is Super Greens essential for your health?
Boost immunity and defense
Increase Weight Loss Safely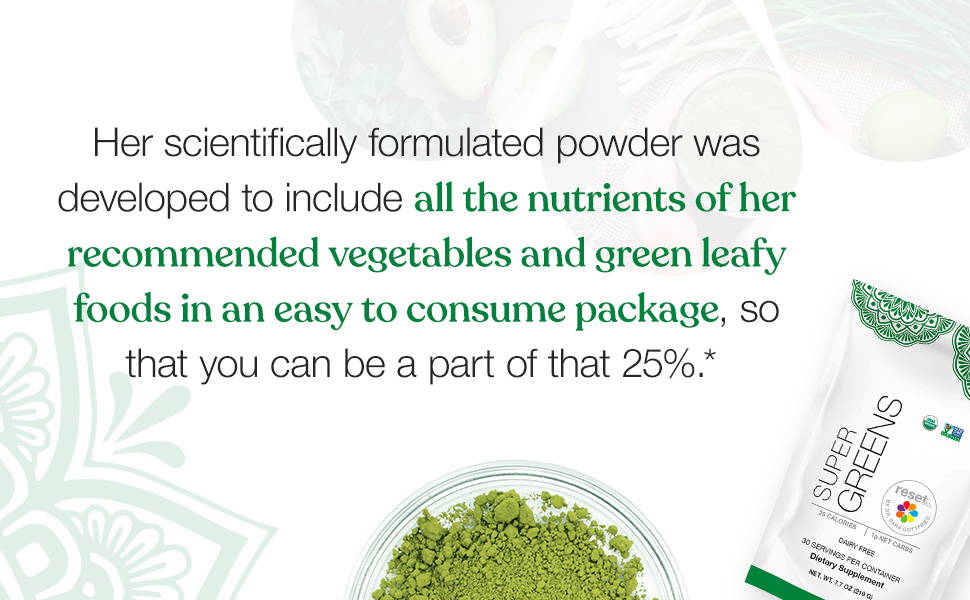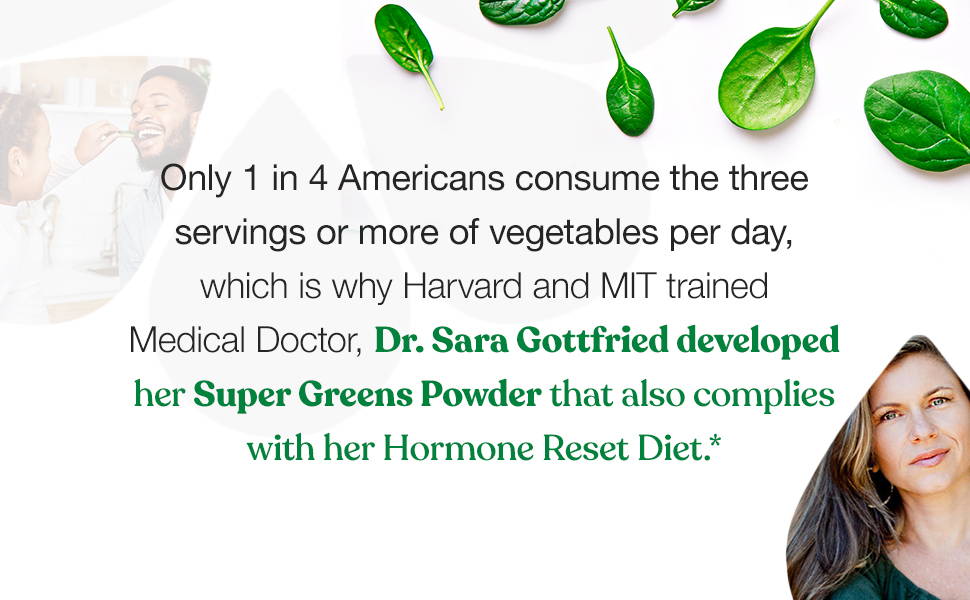 Only 1 in 4 Americans consume the three servings or more of vegetables per day. Super Greens also complies with Hormone Reset Diet.*

A Daily Dose of Greens Powder helps you detoxify, digest, and improve your overall diet.

Dr. Sara's Hand-Picked Organic Ingredients


WHEATGRASS POWDER (Triticum aestivum L.)
SPIRULINA POWDER (ALGAE) (Arthrospira platensis)
SPINACH POWDER (LEAVES) (Spinacea oleracea)
PARSLEY POWDER (LEAVES) (Petroselinium crispum)
BARLEY GRASS (Hordeum vulgare)
KALE POWDER (LEAVES) (Brassica oleracea L.)
ALFALFA POWDER (LEAF) (Medicago sativa)
CHLORELLA POWDER (WHOLE PLANT)

The solution to Dr. Sara's shake problems became the All-In-One Shake, and it has worked gloriously well for the 10,000+ people who've purchased it over the years.
We created Reset360 Super Greens powder to help you increase your daily phytonutrient intake more conveniently, for those days when you can't get in all of the vegetables and green leafy foods that Dr. Sara recommends. Boost your daily vegetable yield while on the go.
Combined with exercise, you can use it to lean out, detox, or maintain weight loss.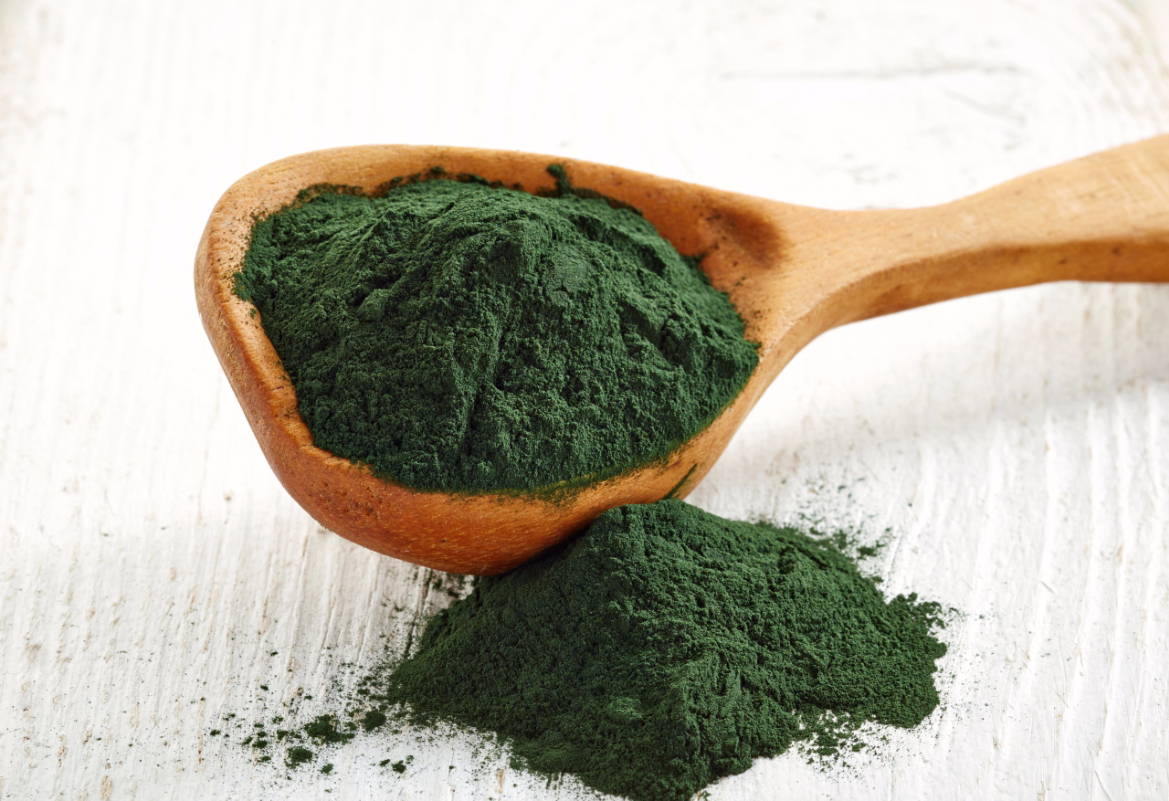 Each pouch of our Super Greens provides you with 30 Servings.
Serving Size: 1 Scoop (7.3g), most customers choose to stock up and save by ordering 2 or 3 because they love it so much.
These sale prices are only guaranteed for today, so it makes sense to stock up now before our sale ends.
These are the guaranteed lowest prices you'll find anywhere on our Reset360 products.
Plus all our products are protected by our Happiness Guarantee.


Shop Today and Get More Vegetables Daily
Super Greens Taste The Difference
CHLORELLA POWDER
Chlorella is a green algae that acts as a drawing formula that gathers heavy metals and mercury in the bloodstream and digestive tract. Clean blood insures that metabolic wastes are efficiently carried away from the tissues.
SPIRULINA POWDER
Spirulina is a blue-green algae (also known as cyanobacteria) found in tropical and subtropical lakes with a naturally high pH. Spirulina is considered one of the most nutritious food sources. As a significant source of amino acids, essential fatty acids (including ALA, GLA, EPA and DHA), vitamins B, A, E, K, and C, minerals, and antioxidants, it's one of the best choices for a daily multi-vitamin.
SPINACH POWDER
This age-old superfood aids us in our ability to digest our food, protect against cancer, and improve our glucose control. Spinach leaves are one of the richest sources of vitamin K, essential for blood clotting and bone health, and vitamin A, which is needed for vision, a strong immune system, and reproduction.
PARSLEY POWDER
A delicious and highly nutritious relative of celery, parsley is cultivated year-round, and is considered the world's most popular herb. The most notable health benefits of parsley are found in its two unique components: volatile oils and flavonoids. Volatile oils inhibit tumor formation, making parsley a fierce warrior against cancer. When ingested, these oils help to neutralize carcinogens.
BARLEY GRASS
Large amounts of vitamins and minerals are found in green barley (Barley Greens) leaves. These include potassium, calcium, magnesium, iron, copper, phosphorus, manganese, zinc, beta carotene, B1, B2, B6, C, folic acid, and pantothenic acid. Barley grass is said to have 30 times more vitamin B1 and 11 times the amount of calcium than cow's milk, 6.5 times as much carotene and nearly 5 times the iron content of spinach, close to seven times the vitamin C in oranges, four times the vitamin B1 in whole wheat flour, and 80 micrograms of vitamin B12 per 100 grams of dried barley plant juice.

KALE POWDER
Just one cup of kale contains almost all of your daily requirements for vitamins A, C, and K, providing anti-inflammatory benefits as well as phenomenal cardiovascular support. It is also rich in lutein and zeaxanthin, which promote healthy eyesight. Kale is a great source of potassium, iron, phosphorus, and manganese – as well as over 45 different varieties of antioxidant flavonoids.
ALFALFA POWDER
Alfalfa leaf contains essential vitamins including the entire spectrum of B-vitamins, A, D, E, and K. Alfalfa Leaf is a source of iron, niacin, biotin, folic acid, calcium, magnesium, phosphorous, and potassium. Alfalfa is a source of chlorophyll. Compared to other plants, alfalfa leaf is very high in protein and amino acids.
WHEATGRASS POWDER
Wheatgrass juice is an effective healer because it contains minerals and vitamins A, B-complex, C, E, l, and K. It is extremely rich in protein and contains 17 amino acids, the building blocks of protein.

*These statements have not been evaluated by the Food and Drug Administration. This product is not intended to diagnose, treat, cure, or prevent any disease. If you are pregnant, nursing, taking medication, or have a medical condition, consult your physician before using this product.