What You Get In Hormone Balance Bundle Kit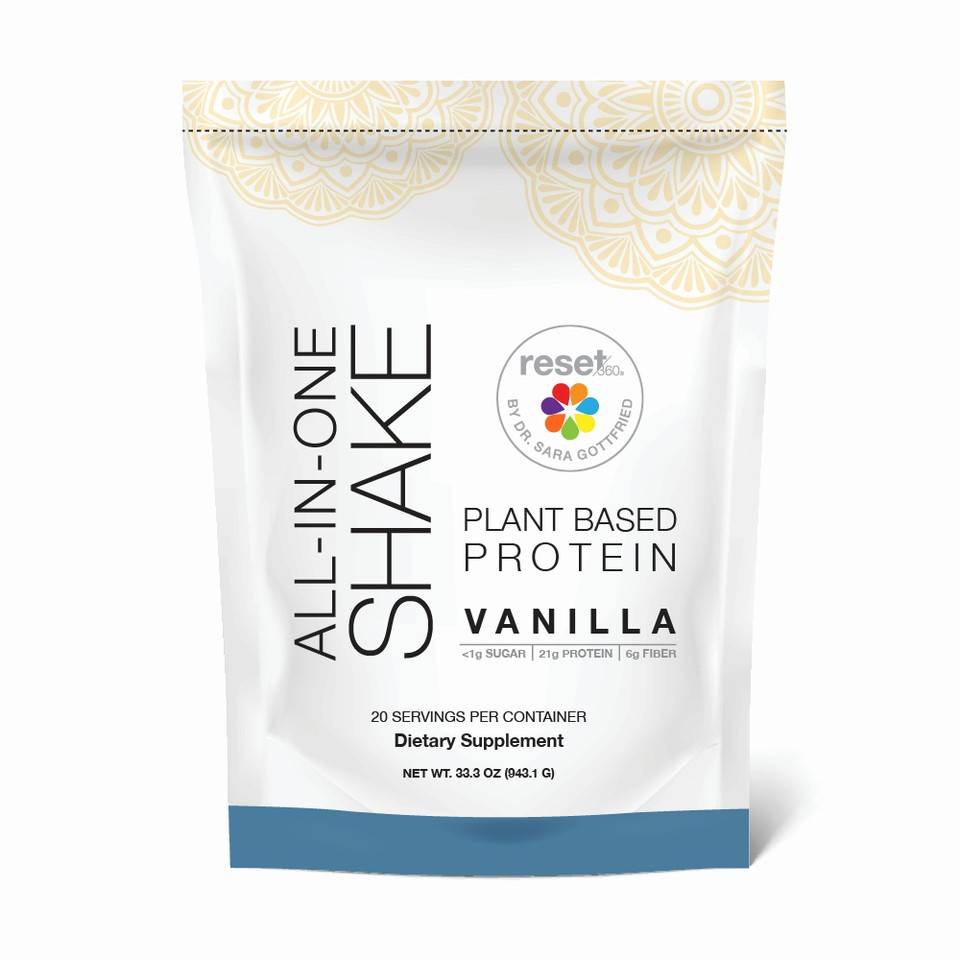 Not Your Average Protein Powder . . .
Dr. Sara tried every protein powder and nutritional supplement out there, and none of them came close to the delicious flavor, taste and texture of her non-whey, vegetable-based, multi-nutrient mixture.
These all-in-one shakes are designed to balance your hormones and stabilize your blood sugar – without sacrificing taste! In other words, they are delicious, and leave you feeling full far beyond the usual 3-4 hours.
And they take less than 5 minutes to prepare.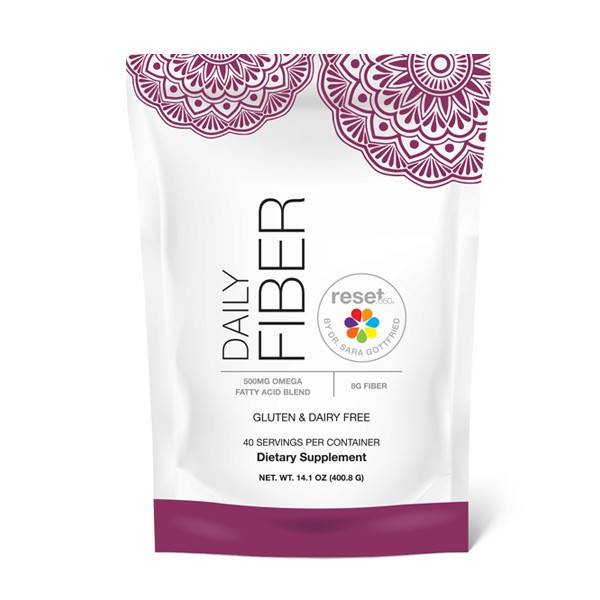 Easy-to-use fiber formula to support your gut health, regular bowel movements, and balanced gastrointestinal flora. Reset360 Daily Fiber makes it convenient to add high-quality fiber into your diet, which can help maintain healthy blood sugar and cholesterol levels, cravings, and weight management.*
Daily Fiber from Reset360 complements your daily shake. It's tasteless and easily dissolves, and helps support healthy hormone balance.*
Suggested Use: During first 7 days of supplementation add ½ scoop to shake or drink mix, increasing to 1 scoop per day on day 8, or as directed by your healthcare practitioner.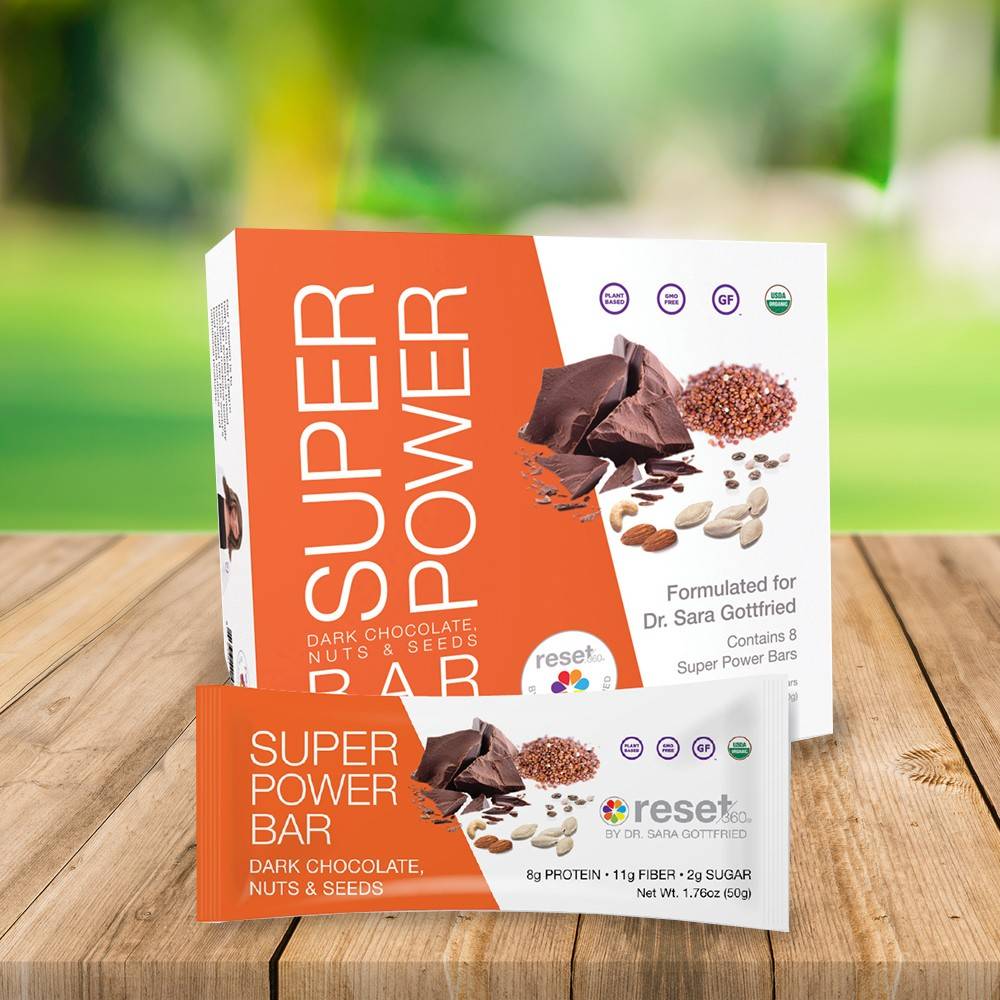 Super Power Dark Chocolate Protein Bars*
Dr. Sara Gottfried and her team have developed a NEW Super Power Bar. Made with 100% organic dark chocolate, nuts and seeds. This delicious bar is clean living approved.
Each bar has 8 grams of plant based protein, 12 grams of dietary fiber and only 2g of sugar.

Perfect for meal replacement, mid-morning snack, pre-workout boost, afternoon slump pick-me-up, or in kid's lunches and snacks.

A non-inflammatory, sustainable energy bar to power your body and elevate your brain that fits into a busy lifestyle.

Clean fuel for your body - hit your health goals & enjoy yourself along the way with the treat-like taste of dark chocolate.

Approved for Dr. Sara's Hormone Reset & Brain Body Diet Protocols, detox friendly!
*Please note that all of the statements in this document have not been evaluated by the Food and Drug Administration. This product is not intended to diagnose, treat, cure or prevent any disease. If you are pregnant, nursing, taking medication, or have a medical condition, consult your physician before using this product.
Maintain Hormone Balance, Keep The Weight Off, Feel Fantastic and Stay In Control
Use The Hormone Balance Bundle To Maintain Healthy Hormones
Our New Hormone Balance Bundle provides the perfect support for Detox maintenance. Three complimentary products are bundled to provide you optimum support either after your Hormone Reset Detox or for use daily as a healthy hormone protocol.*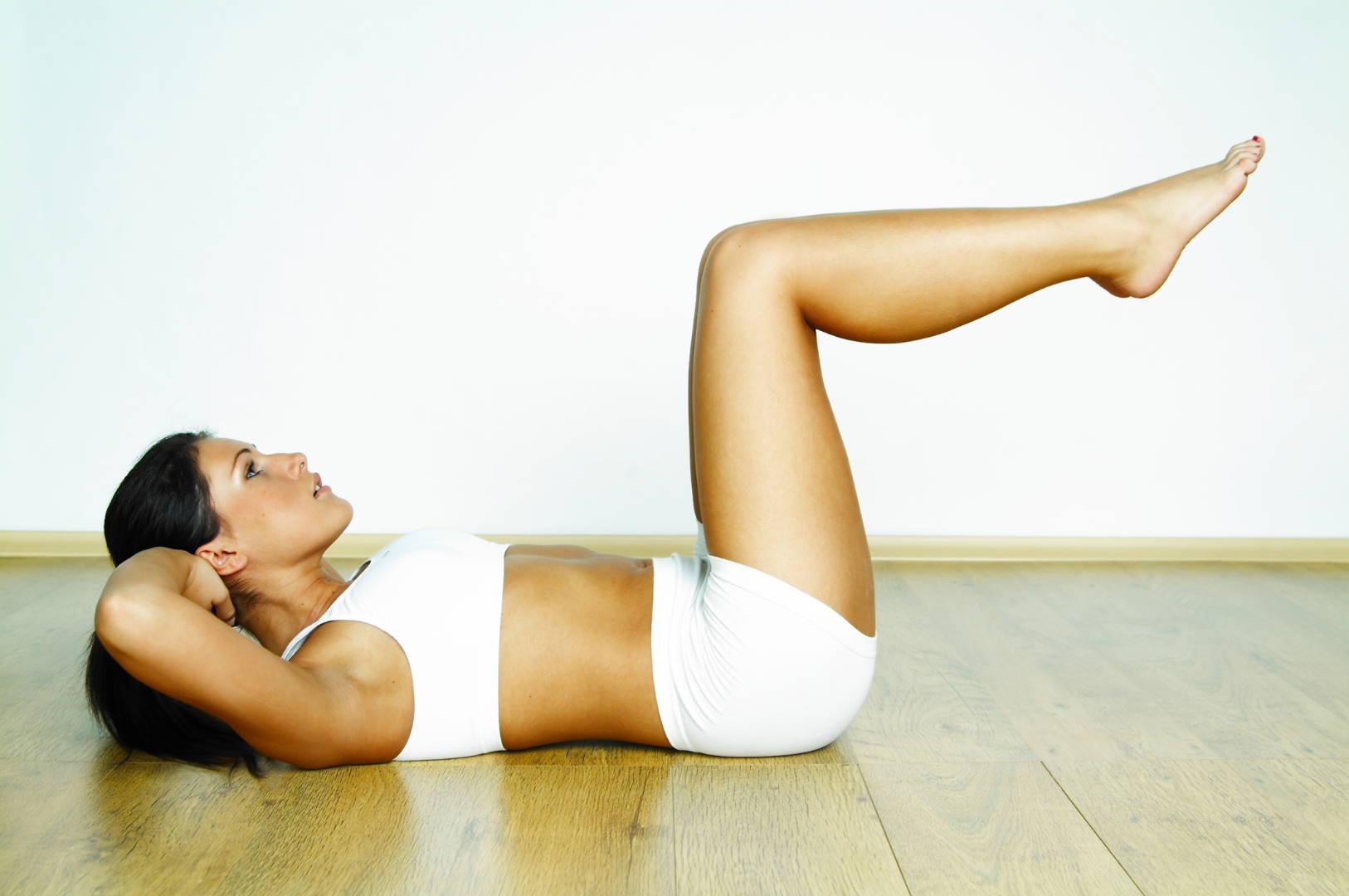 Customer Reviews
Write a Review
Ask a Question
12/20/2022
2 good / one not so much
The shakes are easy and good by adding a little stevia to them. I also like to add extra flavoring like mint oil to the chocolate or pumpkin spice to the vanilla. Yum. Loving the dark chocolate bars (the chocolate brownie is too chocolaty for me). Now to the "not so much"…fiber. I've tried working my way up little by little but still cannot tolerate it.
02/20/2022
Hormone bundle
I have never been disappointed
Megan A.

United States
02/21/2021
Bundle pack
First time ordering. Pleasantly surprised at the promptness of the arrival of my order I will order again.
Michelle N.

United States
09/13/2020
excellent products
I have tried many protein powders and this is by far the best - not too much stevia, and not chalky whatsoever like most. I am very impressed with the fiber that blends easily and is no problem to get down, and the bars taste fabulous and keep my blood sugar stable for hours.
Miranda M.

United States