Sale
Shake Kit
Now $ 102.10
Was $ 145.85

You Save $ 43.75 (30% Off)
Our Shake Kit contains our Reset360 All-in-One Shake, Super Greens, and Fiber Love or Daily Fiber — essential components in the Hormone Reset Diet. This shake combination makes it easier to ensure you get your daily nutritional support.*
Each kit includes:
One container of Reset360 All-In-One Shake (choice of flavor: Chocolate or Vanilla )
One container of Reset360 Super Greens 
One container of Reset360 Fiber Love -OR- Daily Fiber
Suggested use:
Reset360 All-in-One Shake: Mix two scoops in 8-10 fluid ounces of water or preferred beverage and drink daily or as recommended by your health care practitioner
Reset360 Super Greens: Mix one scoop with 8-10 fluid ounces of water or preferred beverage and drink daily, or as recommended by your healthcare practitioner
Reset360 Fiber Love: Blend, shake, or briskly stir 1 level scoop into 8 fluid ounces of juice or another beverage daily, or as directed by your healthcare practitioner.
*Please note that all of the statements in this document have not been evaluated by the Food and Drug Administration. This product is not intended to diagnose, treat, cure or prevent any disease. If you are pregnant, nursing, taking medication, or have a medical condition, consult your physician before using this product.
Customer Reviews
Write a Review
Ask a Question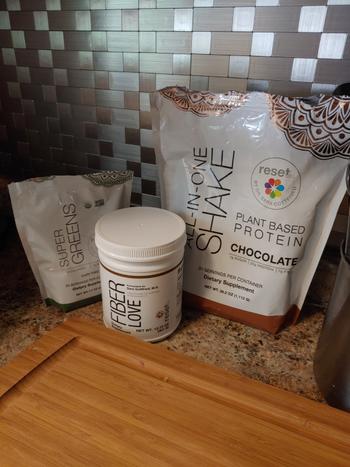 08/12/2020
Hormone reset kick start
So far I am really enjoying the reset 360. I add the fiber to my protein shake and it blends great in my blender. I very please with the taste and the way it keeps my full in the morning until lunch. The green are easy to drink and add the nutrients I need to feel great.
Doni B.

United States
02/01/2023
Delicious and filling!
Really enjoy the shake I make every morning with the reset 360 vanilla protein powder! I add the greens and the daily fiber to the shake along w some almond milk and ice. I am a teacher so breakfast to go is a must and the Reset 360 bundle makes it possible for me to have a nutritious and satiating meal to go with very little time and effort. I know I am starting my day by doing something good for my body!!!
Meredith H.

United States
01/20/2023
Never had so much energy!
I've been using RESET360 for several months now and am blown away by the amount of energy I have. On top of that, my digestive issues have improved immensely! I look forward to my shake every morning!
Kelly P.

United States
11/25/2022
Love this trio!!!
I have been using this trio for about a month now. My digestion has improved, energy level has gone up and I feel overall better! I am so thankful a friend of mine told me about it. Total game changer!
Kelly P.

United States
01/30/2022
Chocolate Shakes
Chocolate shakes are my favorite!!! To me, it's like eating a decadent chocolate chocolate dessert! My Favorite!
Bonita T.

United States