Sale
Organic Plant Based Protein Bar - Dark Chocolate - (Bundle 3)
Now $ 71.88
Was $ 89.85

You Save $ 17.97 (20% Off)
Organic Plant Based Protein Bars are packed with
 delicious dark chocolate, nuts, seeds, and other clean-eating ORGANIC ingredients.  
It's time to upgrade your snack game!
Protein-packed, dark chocolate goodness
 with only 2 grams of sugar- sounds like a dream come true. With all organic ingredients and 10 grams of plant protein, this bar is the perfect anytime snack.
6g of dietary fiber in every bar
 keeps you satisfied for hours without weighing you down. keep these bars nearby during break times for a pick me up when there's no time for a full meal.
These bars are light, flavorful, and soft. 
They come in three awesome flavors like Double Dark Chocolate Brownie, Dark Chocolate Peanut Butter, and Dark Chocolate Nuts & Seeds.
You can enjoy the yumminess of these plant-based protein bars
 by snacking on them during your day or you can take a few with you and fuel up wherever life takes you.
Make sure to give these bars a try
 if you're looking for something new that will keep you satisfied until dinner time!
Customer Reviews
Write a Review
Ask a Question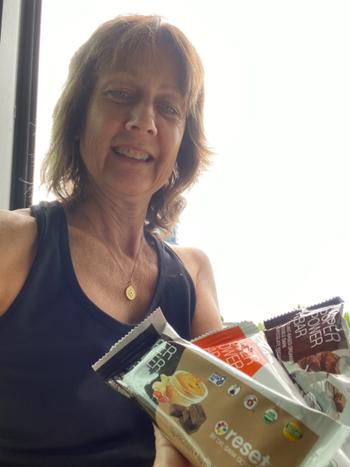 08/21/2021
Reset super bar energy!
An extraordinary way to divinely nourish my body. Blessed and grateful to all who have contributed to this nourishing meal! ❤️
Joan K.

United States
02/04/2021
The best protein bars EVER!
I love these bars for energy, flavor, calories and supportive toward hormone balance and weight management. Really quality product!
Geffen G.

United States
04/26/2022
Dark Chocolate Protein Bars
Excellent as they have always been!
04/01/2022
Plant protein bars
They are delicious and healthy
Cheryl C.

United States
02/20/2022
Good For You Bars
Great tasting. I especially enjoy the ones with nuts and seeds. Not only is it really so tasty each bar has 10g of protein and no added sugars. Can't wait to the peanut butter one is back in stock. That is my absolute favorite! Can't go wrong with any of them.
Annette S.

United States