Your Invitation to Join the 7 Day Hormone Reset Challenge...
Naturally Balance Your Hormones In 7 Days Just Using Your Fork
Restore Your Natural Hormone Function Using Food as Medicine
A digital, online, 7 day challenge with daily emails, downloadable PDFs, meal plans, hormone reset instructions, a private FB group, and experienced hormone reset Ambassadors.
Join the thousands of women who've finally found a way to naturally balance their hormones. 
When it comes to feeling like yourself again, the truth is...unless you fix your hormones you won't feel normal. 
This is true for your energy, mood, sex drive, and body weight.
Hormones influence your mood, digestion, energy levels, hunger levels, and metabolism.
Hormone dysregulation can even keep your body storing fat even when you're dieting, turn off your metabolism even if you're working out, and kill your energy if even you sleep through the night...
WHO IS THIS PROGRAM FOR?
This program was designed for women are sick of living with hormonal imbalances, who want to make a change and feel normal again.
You're frustrated with a lack of weight loss results+

You don't feel like yourself & suspect an underlying hormone issue

You're struggling to know what you should do

You're craving sugar, alcohol, coffee, bread and carbs

You don't have a support system or accountability partners

You're fed up and want results now
We have a proven formula to help you balance your hormones, stay sane and feel in control. 
Dr. Sara Gottfried designed and tested her protocol to reset your 7 key hormones, plus you get daily direction on what to do, motivation to stay committed and a support group to keep you accountable. 
THE 7 DAY HORMONE RESET IS NOW ENROLLING
Your 7 Day Detox Prep Starts Thursday December 1st &
The Detox Starts On Monday December 5th
00

Days

00

Hours

00

Minutes

00

Seconds
Shop Our Great Products This Offer Has Expired
For most women, as they approach their 30's, the hormone problems start...
Weight gain, mood swings, brain fog, fatigue, low sex drive, irritability, thinning hair, brittle nails, adult acne, gas, bloating...
Usually it's not all of these symptoms but some combo of conditions that results from Hormone Dysregulation. 
What is that exactly? 
Well, before explaining what that is... 
Let's talk about the reason why you have more than one hormone imbalance working against you... 
And why you tend to struggle SO much getting past this sticking point.
Whether its struggling to lose weight, have more energy, or just feel like yourself again... 
First, you need to know these issues are real. 
Too many male doctors dismiss these concerns outright.
If even they take you seriously, they'll often suggest useless medications or put you on birth control because they don't understand your unique hormonal needs. 
The #1 reason why most women struggle with hormone imbalance is because they've gotten wrong information and bad advice. 
This is why Hormone Dysregulation is such a big deal for women, but most haven't heard about it.
Take weight loss as an example... 
You've probably noticed that women lose weight more slowly than men and gain weight more quickly. 
The big lie that every woman gets told is 'you're overeating'. The other big lie is "You need to eat less and exercise more." 
Here's the truth, it's seldom overeating or under exercising that makes you fat. 
It's more likely hormonal chaos is the real reason your overweight, specifically two hormones... 
Leptin and Insulin are two big enemies to why you struggle with weight. 
If your leptin is off then you'll have cravings and hunger pangs that force you to overeat. When insulin gets dysregulated then the body turns off the fat burning switch. 
You could be eating only lettuce leaves and ice cubes all day and still put on fat.
Here's What Detoxer Susan W. Has To Say About the Program:
"I began Dr. Sara's Detox Program when I was at a low point emotionally and a high point with my weight. I had great success with the original detox, found out what foods were not good for me, and continued to keep those foods out of my diet. I lost weight and changed my self-image and way of feeling.   Almost a year later, I slowly began to bring sugar and wheat back into my diet, and sure enough, I started gaining weight and not feeling as good about myself again. This seven-day detox was just what I needed. I feel like I'm back on track. I am losing weight and feeling light and free again. Thank you. Thank you." -- Susan W.
Normally $97.00 THIS WEEK ONLY $47. Save $50.
Limited Time Offer. Sign Up Today!
Too Busy, Too Frustrated, Too Overwhelmed, Too Stressed, Not Enough Time, It Probably Won't Work Anyway...
There are always reason to wait for the next challenge, reasons to say no, reasons to put yourself last. But the truth is simple: you deserve a quick reset and re-balance.
The 7-Day Detox can help you get started with simple, clear, easy directions delivered to you daily.
Do you have any of the following detox warning signs? If yes, this program is for you:
You can't shake feeling stressed or anxious

You frequently feel lonely or sad 

You have trouble keeping your mind on what you're doing

You struggle sticking with a diet or exercise program

You feel unattractive or uncomfortable in your own body

You struggle with poor sleep or insomnia

You feel run down or low energy 

You constantly put yourself last

You feel bloated or puffy
This 7-Day detox provides an opportunity to focus on health and self-care in a unique way. The daily emails and video were both reminders and cheerleaders for change. I felt supported in making the changes I want to make! This Detox teaches a tool to use when a course correction is needed. It improves body, mind and spirit.
What Does The 7-Day Detox Include:
This program is designed to not overwhelm. We're all busy and most of us are pushed to the max.  This is all about easy, simple and effective.

You'll take a few days to prep for the detox using Dr. Sara's Quickstart Guide and our private Facebook Community.

We start the detox by eliminating the 7 foods that disrupt hormones. This helps us detox fast and get your hormones balanced.

Each day you'll get a daily program email and short daily motivational video.

You'll have a measurement tracker, meal plans, and recipes.

Our Hormone Reset Ambassadors are in the Facebook Community to support you, along with your fellow detoxers.
Normally $97.00 THIS WEEK ONLY $47. Save $50.
Limited Time Offer. Sign Up Today!
100% 60 Day No-Risk Money Back Happiness Guarantee
How Will This Program Be Different?...
There are many options when it comes to weight loss. This includes popular programs such as Weight Watchers, Jenny Craig and Paleo. 
Each has their own claims and some even have their own packaged food and weight loss centers. Many of these programs do provide benefit, but few if any, get to the root cause of weight gain, low energy, poor sleep, and high stress.  
Unlike almost every other programs, this detox was designed by a Harvard educated female doctor with thousands of clinical successes to back it up. 
This isn't your traditional diet, detox, or cleanse. You reset your hormones. You'll fix the root cause of your symptoms without gimmicky juices, packaged foods or calorie restriction. 
Calories matter, but hormones and nutrients matter more.  
Dr. Sara became a medical doctor to help people. She became a scientist to find out what really works.  Her Detox protocol has been tested and improved over the past decade with more than 10,000 women.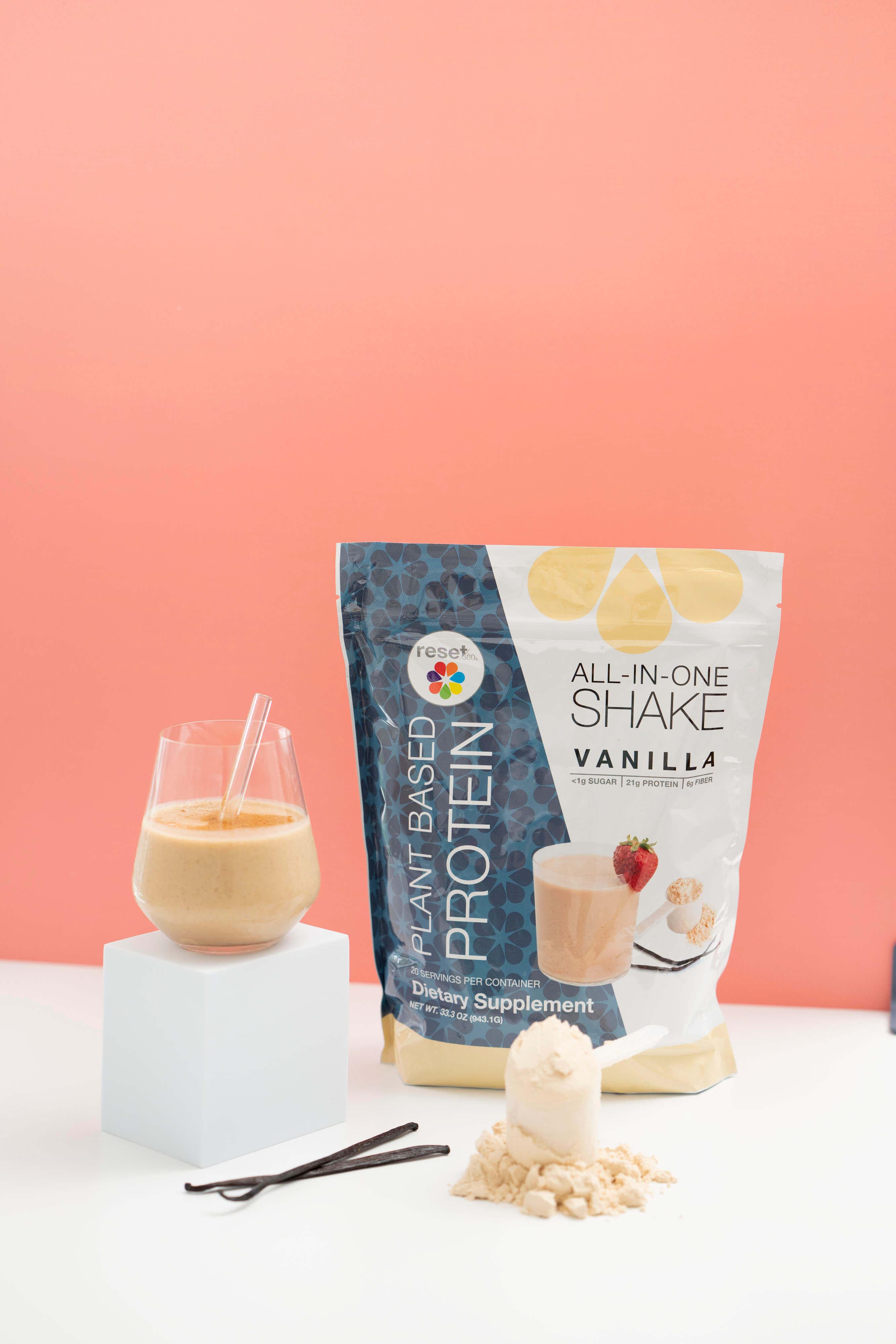 All-In-One Shake
Not Your Average Protein Powder . . .
Dr. Sara tried every protein powder and nutritional supplement out there, and none of them came close to the delicious flavor, taste and texture of her non-whey, vegetable-based, multi-nutrient mixture.
These all-in-one shakes are designed to balance your hormones and stabilize your blood sugar – without sacrificing taste! In other words, they are delicious, and leave you feeling full far beyond the usual 3-4 hours.
And they take less than 60 seconds to prepare.
U.S & Canada Shipping For Kit Bundles Only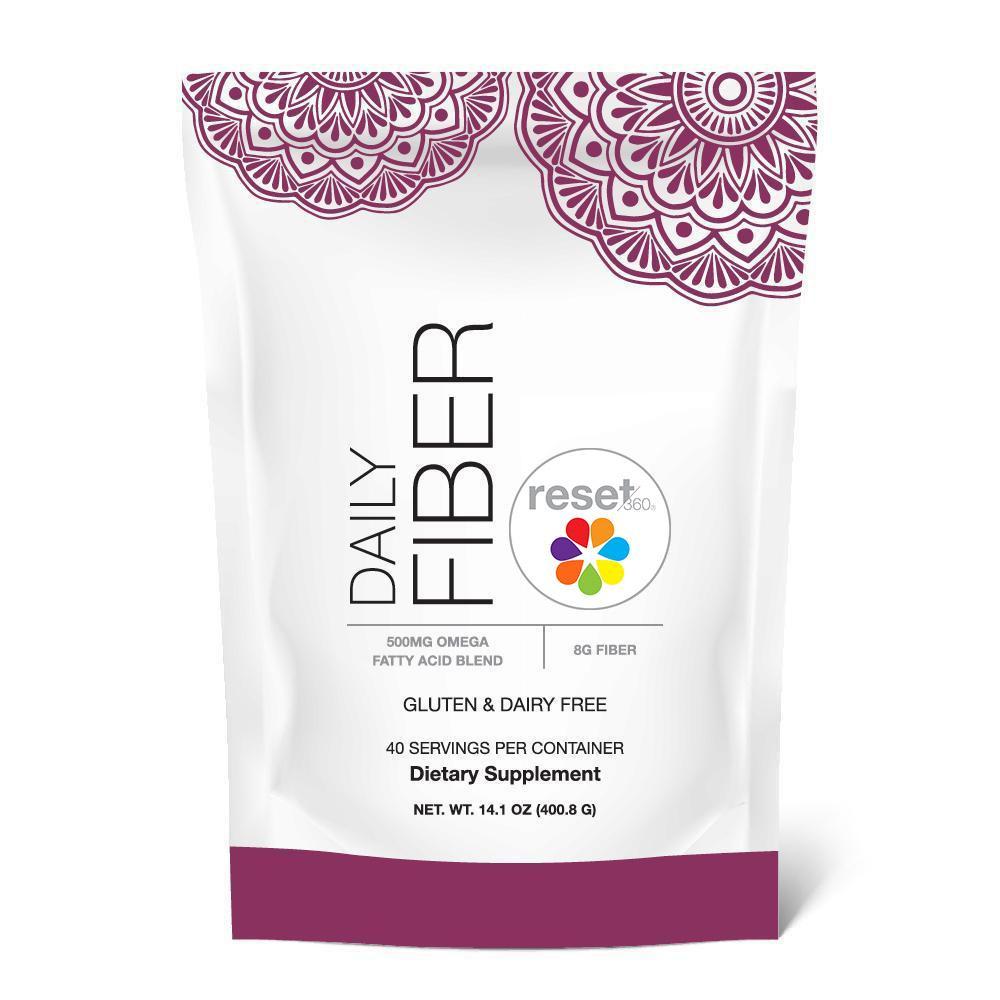 Daily Fiber* or
Fiber Love*
Easy-to-use fiber formula to support your gut health, regular bowel movements, and balanced gastrointestinal flora. Reset360 Daily Fiber makes it convenient to add high-quality fiber into your diet, which can help maintain healthy blood sugar and cholesterol levels, cravings, and weight management.*
Daily Fiber from Reset360 complements your daily shake. It's tasteless and easily dissolves, and helps support healthy hormone balance.*
Suggested Use: During first 7 days of supplementation add ½ scoop to shake or drink mix, increasing to 1 scoop per day on day 8, or as directed by your healthcare practitioner.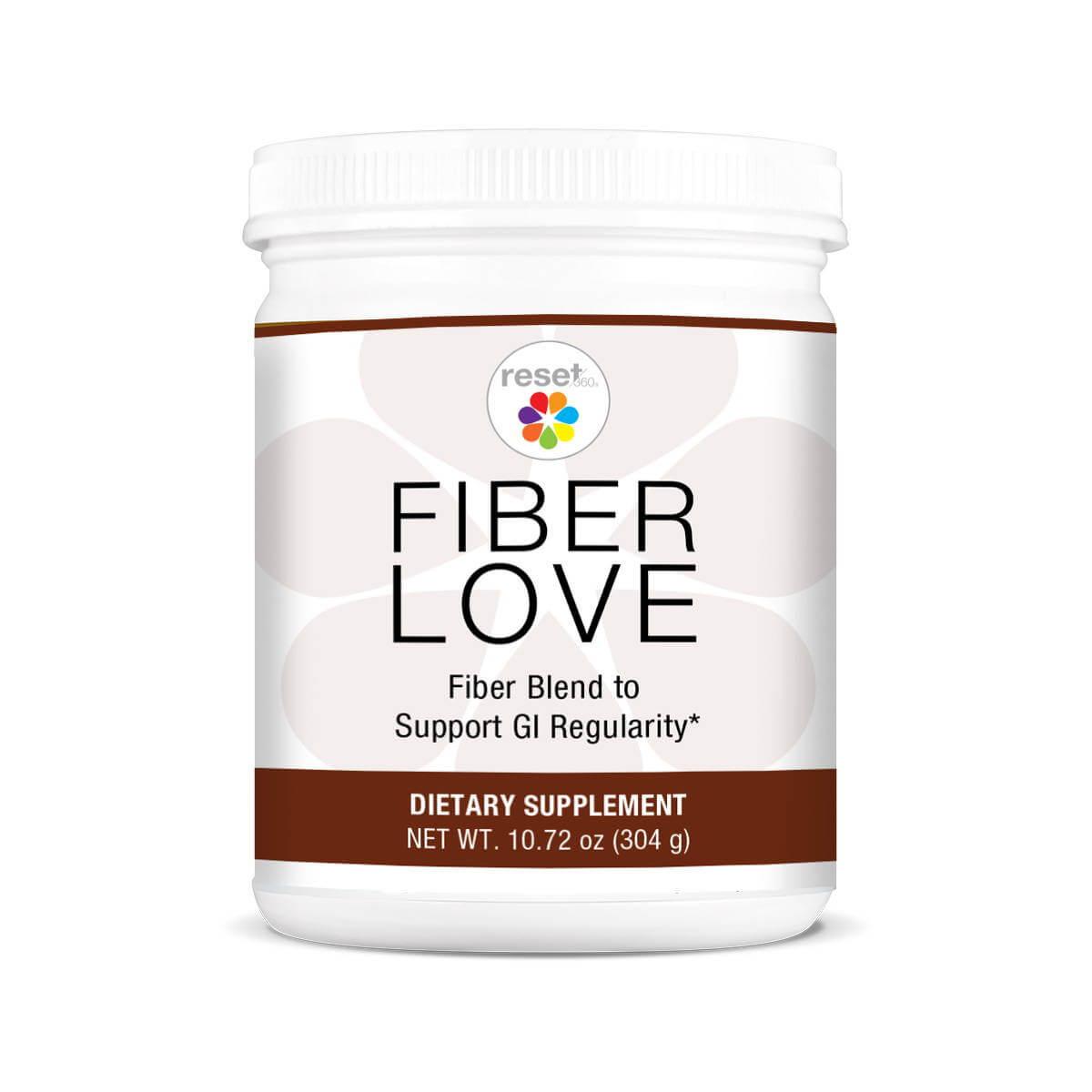 What happens in the body regarding weight gain and loss when estrogen and progesterone are out of balance?

Estrogen is the primary female sex hormone. It gives women hips and breasts, buffers mood, and keeps you on task by regulating serotonin. Estrogen is responsible for the first half of your menstrual cycle, it boosts sex drive and gets you obsessing about babies until about age forty-five or fifty. Progesterone is important for your overall sense of equilibrium or well-being – it's the hormone that allows you to soothe yourself. Progesterone raises body temperature (making it "thermogenic" and a boost to metabolism) and helps your thyroid perform efficiently. It is a natural diuretic, which means it helps you release excess fluid in your body. Ideally, you have a rhythm between these two hormones, which should function like well-matched dance partners. Estrogen dominance is when you have too much estrogen compared with progesterone. Having a little bit too much estrogen in the body causes a number of symptoms, including weight loss resistance, and makes losing weight very challenging, if not impossible.To lower your estrogen levels and help you lose weight, I recommend eating a pound of vegetables per day, divided between meals. The fiber from the vegetables will help excrete estrogen so it doesn't keep circulating in your body like bad karma. Aim for 35-45 grams of fiber per day for women, and 40-50 grams per day for men, but slowly increase in 5-gram increments each day to get to the goal without gas or bloating.

What might be some signs that estrogen and progesterone are out of balance?

Normally you have 100 to 500 times more progesterone than estrogen in your body. If your ratio is off, you may have symptoms of estrogen dominance, including weight loss resistance, depression, fatigue, breast tenderness, painful periods or heavy periods. Many women report feeling like they have PMS, or that they fly off the handle more easily than they used to, particularly the week to 10 days before menstruation. Progesterone that's either too high or too low can cause a range of problems. When progesterone is too low, you're more likely to develop endometriosis and problems with uterine bleeding, possibly even cancer. When you have too much estrogen, you have a greater risk of infertility and endometrial cancer, a malignancy arising in the lining of your uterus, and breast cancer. Proportionate balance is the goal.

When is it time to head to the doctor for a blood test? Are there other tests that can be performed to determine hormone levels?




When your hormones are in balance, neither too high nor too low, you look and feel your best. But when they are imbalanced, you feel miserable, with a range of symptoms that include fatigue, sugar cravings, weight loss resistance, bloating, belly fat, trouble sleeping, anxiety or irritability, and constant stress.You won't really know if your hormones are to blame for your symptoms until you get some basic blood work done. Record your symptoms and check in with your physician. Most traditional doctors only recognize the merits of blood testing, yet the latest testing techniques to determine hormone levels include saliva and dried urine testing.




Is it true that if hormones are out of balance, high intensity exercise can have the opposite effect it normally does and that more moderate activity is more effective when hormones are out of whack?

While exercise is an essential part of managing health and balancing your hormones, it can also throw them further out of whack if not managed properly. Most exercises place stress on the body that cortisol shoots up, such as endurance running. If you've got imbalanced cortisol and chronic stress, high intensity exercise can be depleting and worsen adrenal fatigue. Most people with this situation feel worse or tired after exercise, not energized. These folks sometimes develop mitochondrial fatigue too.Some dedicated female athletes may see body fat drop to such a low number that they stop having menstrual cycles, or can't produce enough estrogen and progesterone and other sex hormones to properly manage their mood, appetite, and sleep.My advice if exercise is depleting is to exercise smarter, in a way that fits your adrenal function. Burst training can make you stress resilient and raise growth hormone, and I'm a big fan of measuring heart variability to assess your nervous system and capacity for training. In cases of adrenal fatigue, adaptive exercise can be a better choice, such as yoga or Barre class or Pilates. Consider adding meditation, or guided visualization several times a week.For a quickstart program on how to balance your hormones for weight loss, click below to purchase The Hormone Reset Diet 10 Day program.

What do I get in the program?

You get Dr Sara's 7-day Detox program with a Private Facebook Community, meal plans and shopping guides, measurement and tracking tools expert Ambassadors and our first in class support team.    We provide optional mini and basic kits at a discount available in US & Canada Shipping Handling are extra.

How is this program different from the other Detox Programs?

It is like a mini detox and designed as a hormone balancing and weightloss quickstart. This program calls for all of the 7 food eliminations Day 1.  Where the full program includes an extensive membership website and complete with self-assessments, lesson plans, and resources.  We offer the full program in our store and do this twice a year as a group.  

Is the 7-Day Detox program just for women?

The Detox works equally well for men and women.  Many past detoxers had better results and easier meal planning by detoxing with their partner.

Yes, We offer 100% full money back guarantee for the 7-day Detox program.  If you're not fully satisfied just contact our support team by the last day of the program and we'll refund all your money for the digital program.

What are the dates for the program?

We will begin the 7-day Detox will begin on May 14, 2020

What's included in the Mini and Basic Kits? (US & Canada Shipment Only)

The Kit includes one Reset360 All-In-One Shake (Chocolate or Vanilla), Detox Essentials, Plus added to the Basic Kit our Daily Fiber.  Each Kit is design and formulated by Dr Sara to provide blood sugar support needed to detoxify your body and liver an reset  your hormones.  Combining several of Dr. Sara's top supplement recommendations in these kits to assist with you gaining optimal results.

How is this program different from the other Detox Programs?

It is like a mini detox and designed as a hormone balancing and weightloss quickstart. This program calls for all of the 7 food eliminations Day 1. Where the full program includes an extensive membership website and complete with self-assessments, lesson plans, and resources. We offer the full program in our store and do this twice a year as a group.
Get the support and accountability you need by connecting with women from around the world who are participating in Dr. Sara's 7-Day Detox. You'll be invigorated by the power of our community — and the wisdom, encouragement, and tips you'll receive will help you stay motivated and on track. 
Research shows that your weight loss is doubled to tripled with accountability. We provide many levels of community so you feel welcomed, supported and guided as part of our Reset tribe.
Together, we can do this.
It may be hard to believe that your hormones could be wreaking havoc on your health and happiness, but just wait and see.

You're invited to join thousands of other women who have reversed the root causes behind weight gain, low energy, hair loss and premature aging.

 There's no need to struggle alone anymore. We're in this together.
Plus...it's just 7-Days!
Limited Time Offer. Get Started Today!
100% 60 Day No-Risk Money Back Guarantee
Join Us in Resetting Your Hormones, Lose Weight and Boost Energy in 7-Days!
Your Satisfaction Is 100% Guaranteed Or Your Money Back
We call it our Happiness Guarantee!
Just let us know by the end of the program and we'll refund the cost of the digital program