Select your option below:
A Tasteless Dietary Fiber Supplement - Quick Dissolving & Easy Mixing Sugar Free, Gluten Free Fiber Powder. Helps Hormone Levels*
* Products are automatically delivered every 30 days. No obligation, modify or cancel your subscription anytime. If you should have any issues our expert customer support team is here to help you navigate your subscription.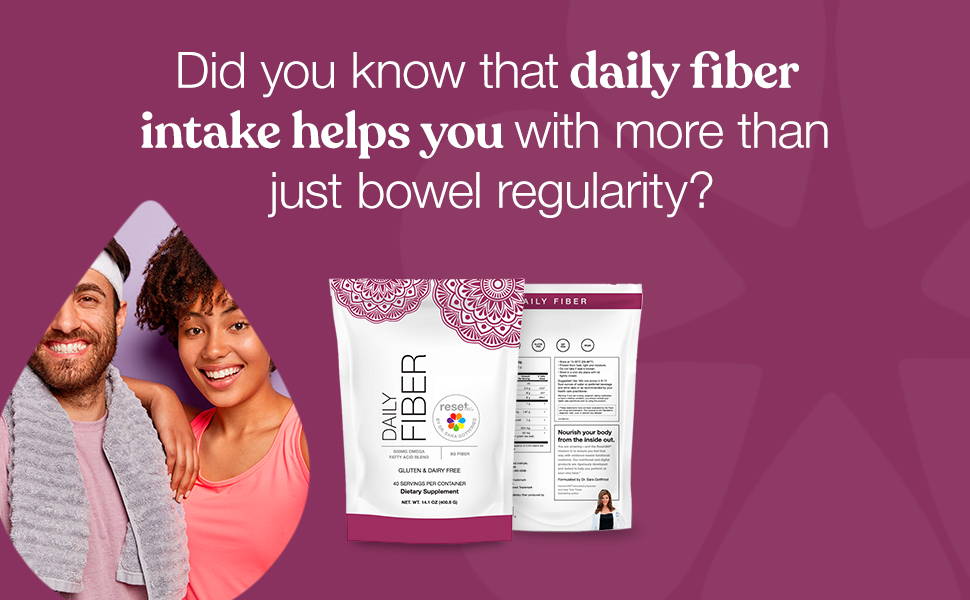 Are You Rocking Enough Daily Fiber?
Unless you're getting 35-50 grams a day, chances are your gut needs help.
When it comes to hormone balance, your gut is one of the most important organs to consider.When your gut is healthy, it does its job well. But when it is unhealthy, it throws your hormones out of tune and causes all sorts of problems.
Whenever one of your hormones is out of tune, you feel it…especially a major hormone like estrogen. Because of the interconnectedness of your hormones, you can go from feeling totally fine one day to feeling completely off the next.
Which is why people love Daily Fiber! It's never been easier to balance your hormones, strengthen your digestion, achieve your goals and maintain overall well-being.

WHY PEOPLE LOVE DAILY FIBER
Why is fiber essential for your health?
Not Your Average Fiber . . .
As a whole, fiber delivers a lot of health benefits:


supports weight loss*
reduces cholesterol and blood sugar levels*
lowers risk of cardiovascular diseases such as stroke, heart disease, and more*

increases digestive and bowel health*



fuels healthy gut bacteria*

In general, dietary fiber is an umbrella term for the parts of plants and other foods that the body can't digest. Instead of breaking fiber down, fiber passes through your system and eases symptoms such as constipation. It's important to eat a wide variety of foods instead of relying on one source for fiber intake.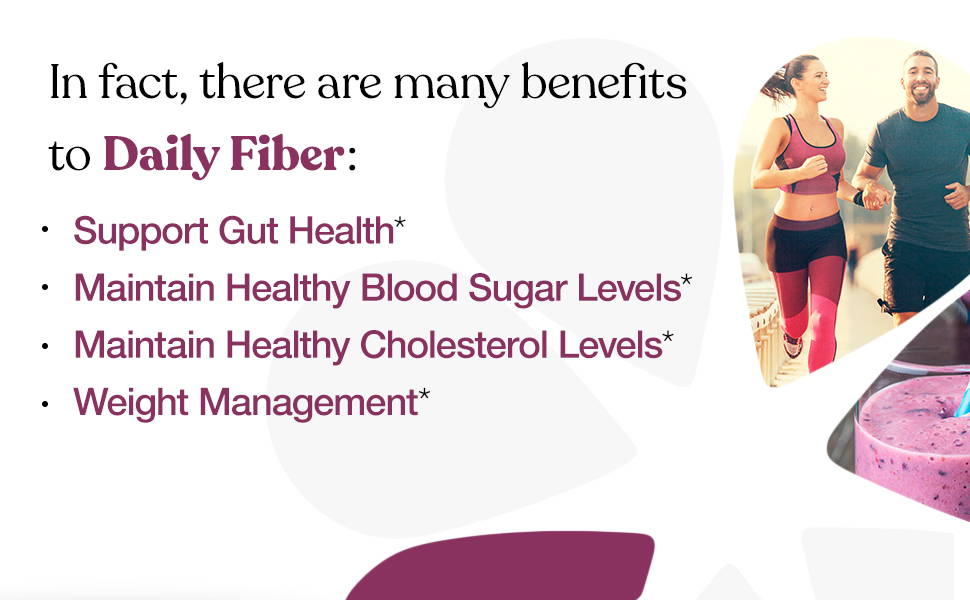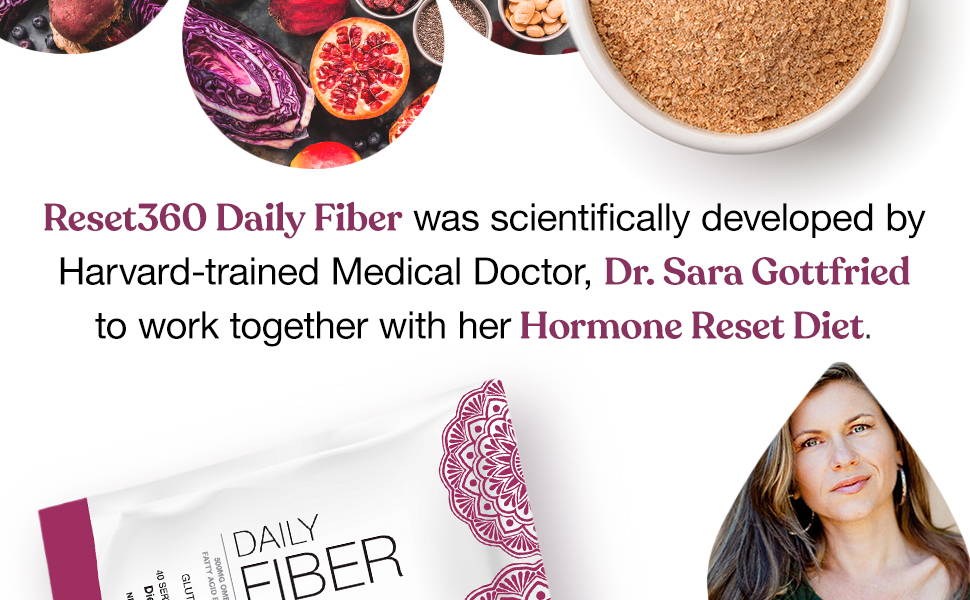 Balance Your Hormones*What's truly shocking is the fact that most women have no idea how gut health regulates hormonal balance.Your gut microbiome isn't just producing hormones, it's also telling the other glands in the body how much or how little of each hormone they should be creating and releasing.

Get The Right Amount of Daily Fiber*Easily get the 35-45g of daily fiber that Dr. Sara recommends for optimal gut health, hormone function and overall well-being.Daily Fiber mixes smoothly with clumping or altering flavor...excellent in smoothies!

Detox and Cleanse Your System*Fiber is like a super supplement for your gut...it removes toxins, keeps things moving, gives you a sense of satiety.Most importantly? Fiber protects your gut from injury and disease, plus it helps balance your hormones, especially estrogen.

Aids in Weight Loss & Maintenance*Fiber also aids in weight loss and maintenance because it can curb your appetite by helping you feel full.What's even better, it helps dispose of excess hormones like estrogen to keep you in the fat-burning zone.

Daily Fiber Your Fiber Solution
The solution to Dr. Sara's shake problems became the All-In-One Shake, and it has worked gloriously well for the 10,000+ people who've purchased it over the years.
Each serving delivers
It's an easy way to get plenty of healthy fiber (and you don't even have to bribe your kids to eat it).
Combined with exercise, you can use it to lean out, detox, or maintain weight loss.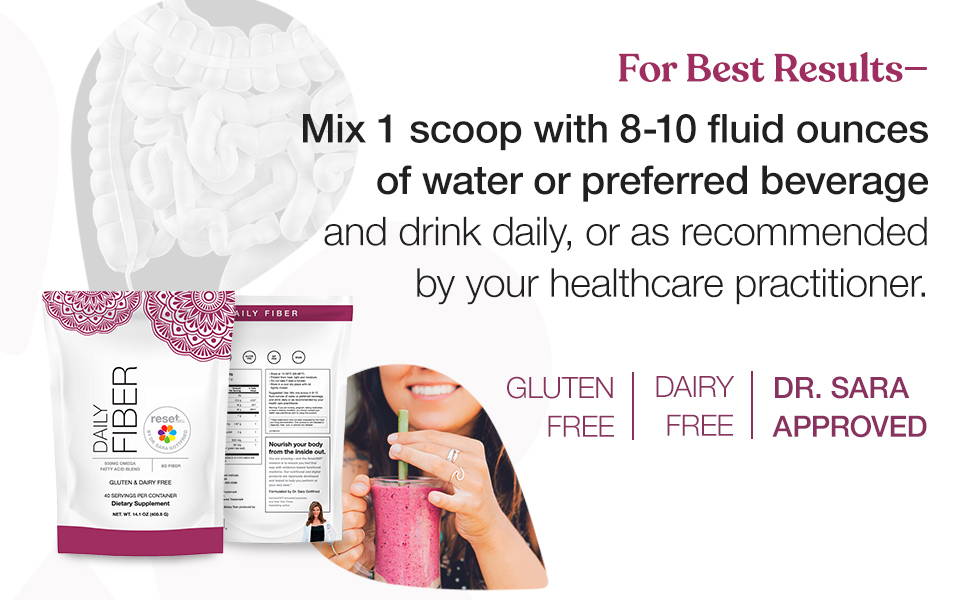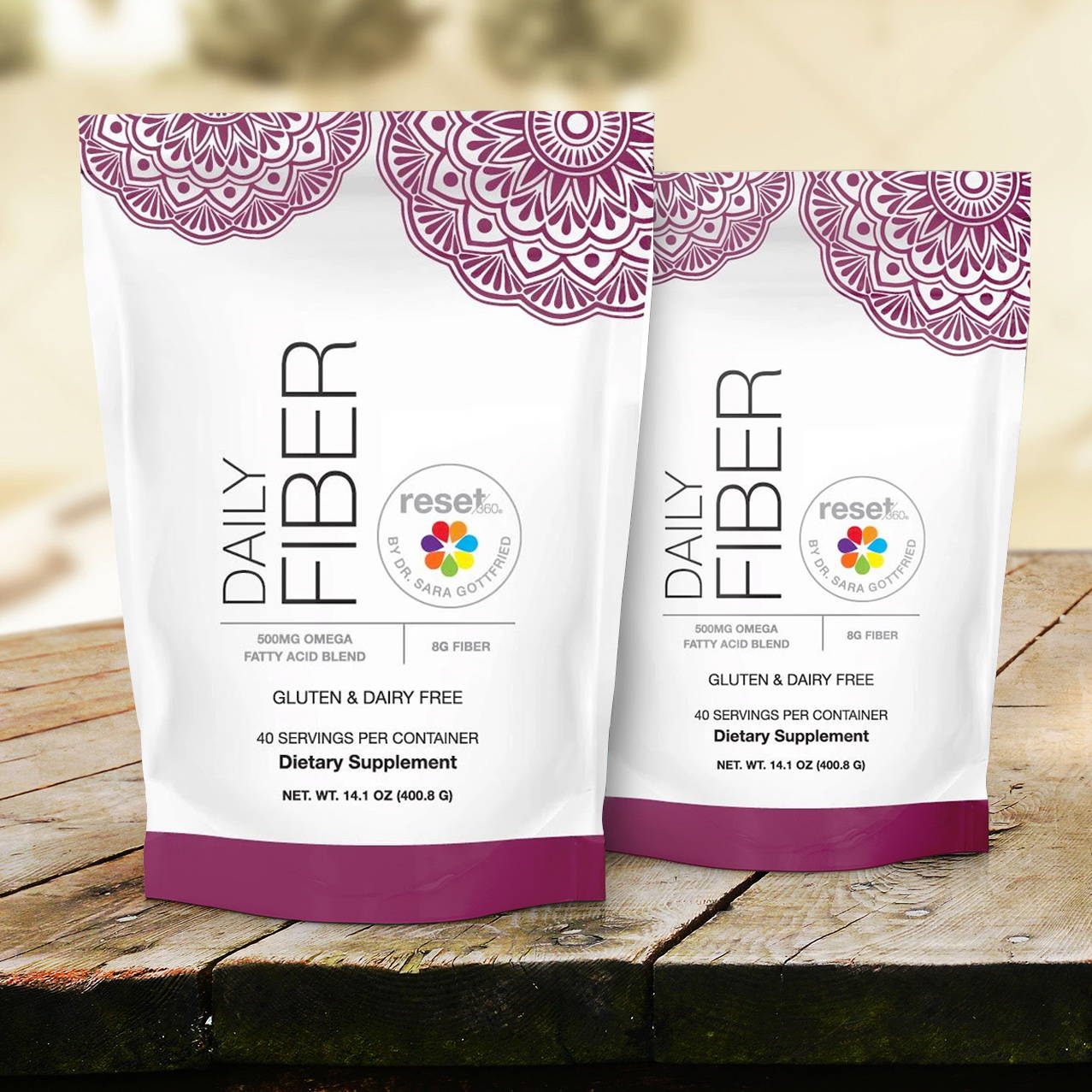 Each pouch of our Daily Fiber provides you with 40 Servings.
Serving Size: 2 Scoops (47.154g), most customers choose to stock up and save by ordering 2 or 3 because they love it so much.
These sale prices are only guaranteed for today, so it makes sense to stock up now before our sale ends.
These are the guaranteed lowest prices you'll find anywhere on our Reset360 products.
Plus all our products are protected by our Happiness Guarantee.


Shop Today and Get More Fiber
Daily Fiber Difference
*These statements have not been evaluated by the Food and Drug Administration. This product is not intended to diagnose, treat, cure, or prevent any disease. If you are pregnant, nursing, taking medication, or have a medical condition, consult your physician before using this product.